Events by Leigh provides the option for clients to choose
their level of service, from Wedding Management and design to Partial or Full-Service
Wedding Planning and Design, or Decorating only- depending on their needs. At all levels of service
clients receive a portal for open and centralized communication. We
approach each wedding as a heartwarming occasion to be enjoyed. Our tailored experience
allows us to walk alongside couples through our process, overseeing every
aspect of the occasion.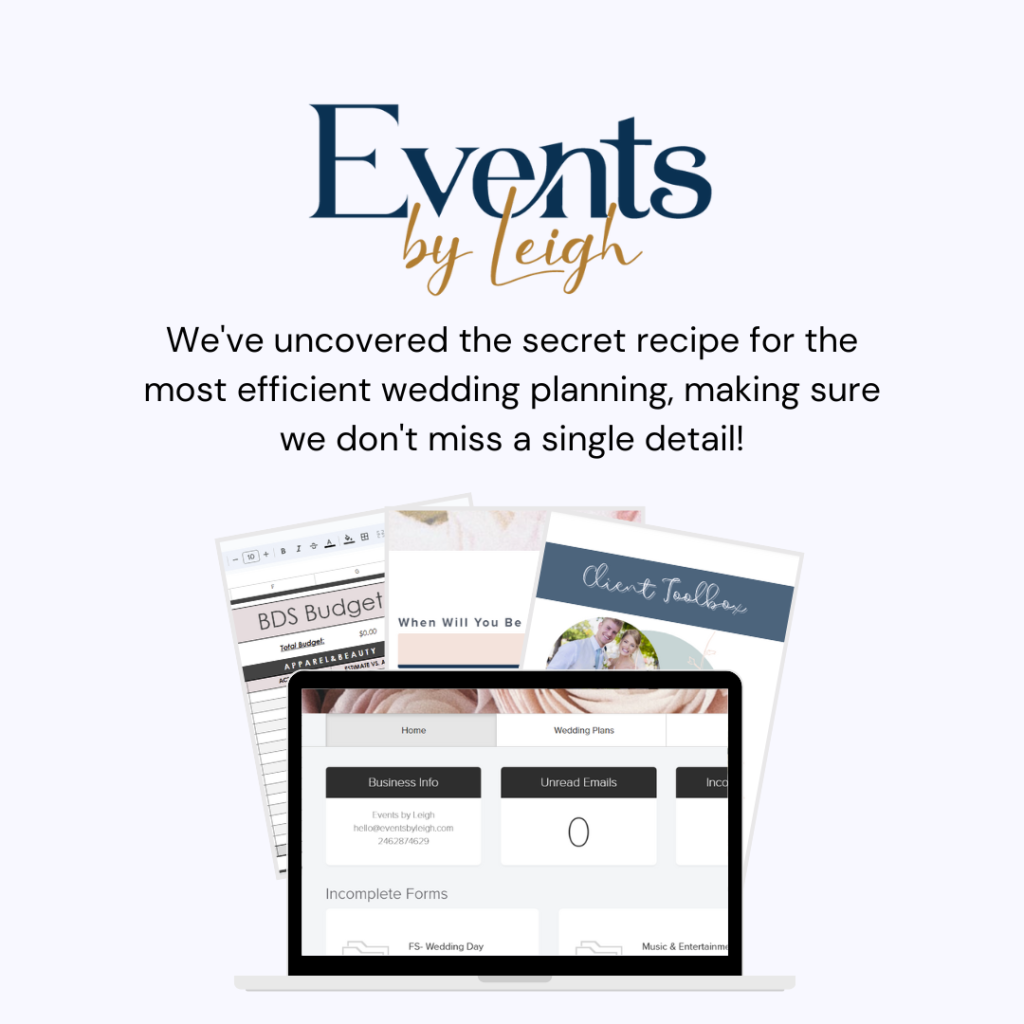 We kickstart the process by setting up the event foundation, which encompasses key elements such as the venue, budget, guest count, accommodations, and handpicking a select team of vendors. This phase also marks the initial stages of event design, involving the exploration of inspiration sources and the crafting of mood boards to guide creative direction. Our couples benefit from open lines of communication through unlimited email correspondence, scheduled calls, vendor introductions, bi-monthly status updates, and a range of additional support.
After finalizing the planning phase, we'll fine-tune a comprehensive timeline that we work with two months before your event. As the wedding month approaches, we provide our clients with advice and useful checklists to simplify the last few weeks leading up to the big day. On your wedding day, our dedicated team takes care of everything from welcoming vendors on site, managing setup, assisting with transportation, and orchestrating the ceremony and reception formalities.
Wedding Design & Décor
Using our keen eye for colors, textures, florals, and lighting, we offer tailored creative guidance for each and every wedding.  All wedding designs include a mood-board and digital renderings upon request.
 Please note that wedding planning/ co-ordination and wedding decorating are separate services!
Get married legally, without the hassle of hosting a large event. Suitable for couples that wish to get married on holiday with 0 to 6 of their closest friends.
We offer both wedding planning and wedding month management options for clients hosting their wedding in Barbados- the service level is completely determined by your needs.
We transform ordinary spaces into breath-taking backdrops crafted to leave your guests spellbound. Elevate your wedding with our breathtaking silk & hybrid floral designs, meticulously handcrafted to inspire awe and create unforgettable moments.
We have a wide variety of event rentals including tablecloths, napkins, overlays, runners, candleholders, vases, arches, backdrops and much more!
Book online- we offer both local and online payment options.
Let us help you to craft your wedding!
Contact us now to start planning your special day